all friends,you can get kaspersky internetsecurity2009 for free download here.im giving its features for you, and you can get the download link at the bottom.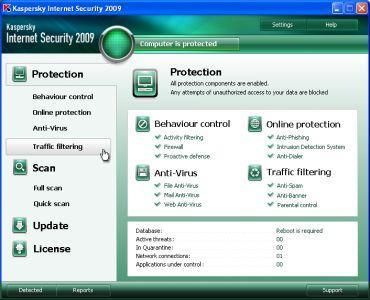 Kaspersky Internet Security 2009 have more improvements and features:
* Integrated protection from all Internet threats
* Integrated antivirus protection: 1) Hourly automated database updates, 2) Preliminary behavior analysis, 3) On-going behavior analysis. New!
* Real-time scanning for email, Internet traffic and files
* Personal firewall with an IDS / IPS system. Improved!
* Protection from leaks of confidential data. New!
* Parental Control. New!
* Protection from spam and phishing
* Automatic database updates Additional Features
* Protection from viruses, Trojans and worms
* Protection from spyware and adware
* Protection from all types of keyloggers. Improved!
* Detection of all types of rootkits. Improved!
* Protection from viruses when using ICQ and other IM clients
* Rollback of malicious changes on your PC
* Self-defense of the antivirus program from being disabled or stopped
* Tools for creating a Rescue Disk
* Free technical supportSecure surfing. The solution analyses web pages and blocks potentially malicious web-based content. It also blocks pop ups and ads, which are not simply irritating: virus writers often use ads to install Trojans that steal your confidential data or give the Trojanís owner access to your computer.
Privacy Control. Many malicious programs attempt to locate and harvest user IDs and passwords for online bank accounts, auctions, shops, email, payment systems, chat rooms, online games and etc from Windows Protected Storage. Kaspersky Internet Security monitors and blocks all attempts to collect and forward your confidential data from this storage area.
Protection from phishing. Kaspersky Internet Security ****s out phishing emails and protects you from accessing websites run by phishers who use social engineering to fool you into sharing your banking or online payment information.
Parental Control. Parents can protect their children from online predators by creating blacklists of individual websites, as well as identifying categories of forbidden content such as drugs, ****ography and so on. These lists can be customized by user type for children, teens or adults. In addition, parents can manage their childrenís Internet experience by limiting the amount of time they spend online.
Anti-virus protection and more protection from all of todayís Internet threats. Kaspersky Lab combines three protection technologies to protect you against viruses, Trojans, worms, keyloggers, rootkits and other threats. This means that you are safe from spyware, adware, ****ware, crimeware and anything else todayís cyber criminals invent.
Firewall. The inbuilt personal firewall provides new generation protection from intrusions and data leaks. The default settings for popular applications control network and Internet activity using the IDS/IPS to prevent hackers from taking over your computer or stealing your data. Stealth mode allows you to surf safely and invisibly, protecting you from becoming a target for hacker attacks.
Anti-spam protection. The anti-spam module uses a combination of filtration methods to protect you from spam targeting you personally: white and black lists of senders and content, self-modifying algorithms for text analysis, graphical spam analysis and more.
Self-protection. Today virus writers begin their attack on your computer by disabling anti-virus protection. Kaspersky Internet Security is designed to block all attempts to disable protection, leaving you to work and play securely.Restoring your data and your system rollback of malicious changes. Kaspersky Internet Security monitors system and application behavior for suspicious behavior. Once malicious behavior is detected, the process is blocked and any changes caused by malicious code are rolled back. Your system is clean and your original data is intact.
Rescue disk. Creating a rescue disk is quick and easy using the built in wizard in Kaspersky Internet Security. If your computer is ever attacked by a virus, you can restore and disinfect your system right away by yourself using the rescue disk you created even if the operating system has been damaged.
[b]1- Install the software
2- Activate key (serials included )
3- Enjoy †

Download link:
LINK REMOVED
Password:
ZentriX
Mirror
LINK REMOVED
Admin





Number of posts

: 6


Reputation :

0


Points :

0


Registration date :

2008-06-12



hello im providing you another link also
LINK REMOVED
rock all and cheerup
Admin





Number of posts

: 6


Reputation :

0


Points :

0


Registration date :

2008-06-12



The main problem is that system will be slow if you are using this new version. but you i promise you that no virus can attack your system. Also i checked the link provided..its a trail version of beta

Admin





Number of posts

: 21


Age

: 32


Location

: india


Reputation :

1


Points :

9


Registration date :

2008-07-01




---
Permissions in this forum:
You
cannot
reply to topics in this forum